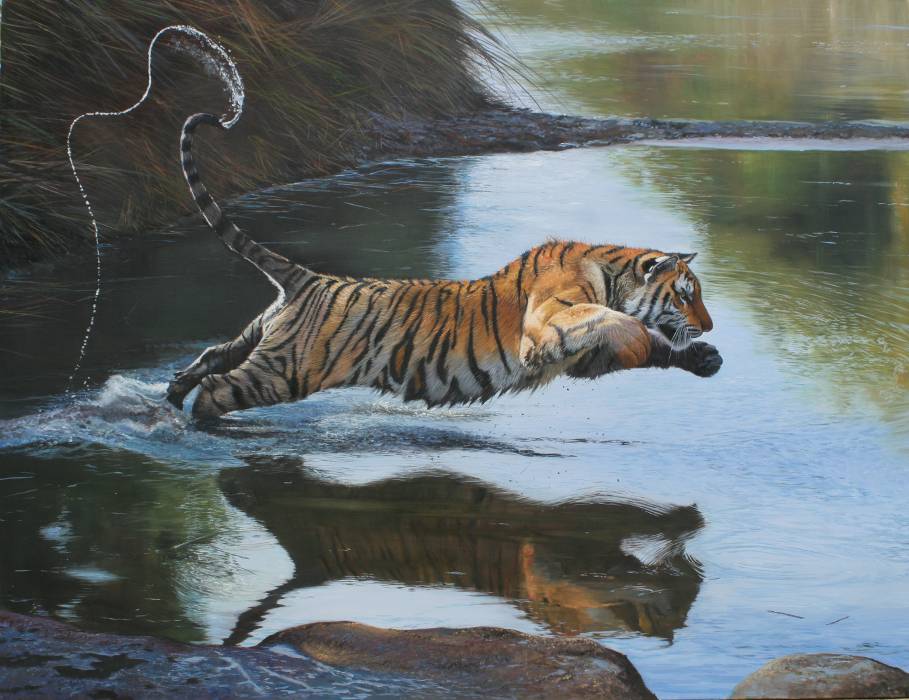 to be announced
Marwell Art Gallery
New! Marwell Art Gallery will be opening around end of November 2014 at Marwell Wildlife Park's retail outlet, which will exclusively house Pip's paintings for sale – dates to be announced shortly
Fri 6th to Sun 15th March 2015
Big Cat Safari
Maasai Mara
A luxury camping safari in the Maasai Mara from Fri 6th March to Sun 15th March 2015 - £4860 per person sharing – if you would like to accompany Pip on this fabulous safari, guaranteed to see Lion, Leopard and Cheetah close up and personal, or would like more information, please contact pip@pipmcgarry.com (only four places left).
Big Cat Safari - Report
Maasai Mara, Kenya
Click here
to read about the latest safari to Kenya's famed Maasai Mara reserve, led by the acclaimed photographers Daryl and Sharna Balfour.
Botswana Safari October 2012 - Report
On the 10th of October Pip and his team of MIWAS artists headed off from the UK on the long journey to the raw wilderness of Northern Botswana. Along with the group was Heather Irvine, winner of the BBC Wildlife Artist of the Year, who won the safari with Pip as first prize in the competition.
Read the full report here.
Record Sale Price Acheived
Pip's excellent 'Flight of the Zebras' was recently sold at the Christies Art Auction achieving a final price of £29,300.
'...one of Europes leading wildlife artists...'


Chris Bull, Managing Director, Simon Bull International Ltd
'Pip McGarry has a unique approach to painting wild animals which is the key to his present position in the art world. He catches the spirit of the beast every time and there is more depth in his paintings than the simple two-dimensional plane. His fine painting of a Persian Leopard in our May sale was an example of this talent. There is now a frisson of interest throughout the room when his paintings come up for auction'


Lynn Burns, Head of Wildlife Art, Christies
'Pip McGarry has firmly established himself as one of the foremost wildlife artists in the UK. His sensational work has truly captured the imagination of the British public.'


Helen Swaby, Managing Director, De Montfort Fine Art Ltd