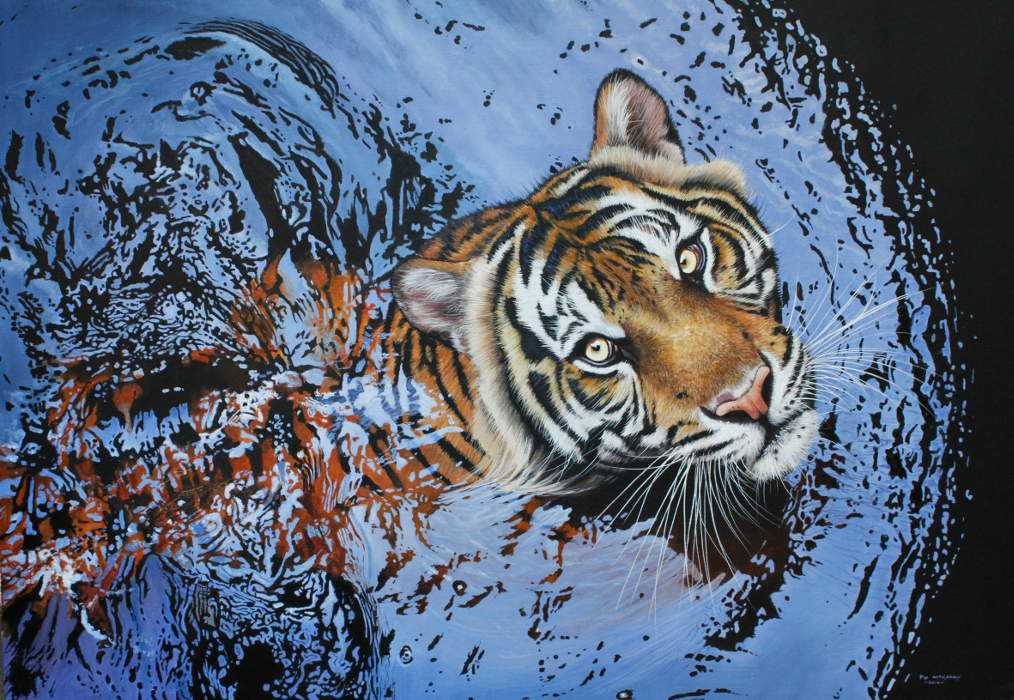 Sat 1st October to Sun 16 October 2016
SOLO EXHIBITION
Big Cats and other animals
The Frame Gallery, 81 High Street, Odiham, Hants RG29 1LB
Following the astonishing success of previous exhibitions at this amazing gallery, Pip's new collection of oil paintings goes on display from Sat the 1st of October for two weeks. Pip will be in the gallery each Saturday. Come and meet Pip and view the stunning new works on display, all for sale. DO NOT MISS! For further information contact gallery owner Jan Baker on 01256 701082.
From Sat 9th July 2016
'Pip McGarry Gallery' at Marwell Wildlife – new paintings!
Pip is delighted to announce that his new collection of wildlife paintings will be on display from Saturday 9th July 2016 at the permanent 'Pip McGarry Gallery' at Marwell Wildlife in Hampshire! Visit Marwell Wildlife, Thompson's Lane, Colden Common, Winchester, Hants SO21 1JH – Normal admission rates apply. Not To Be Missed!
Latest News
Pip's Solo Exhibition Success at Trew Art Gallery!
Huge congratulations and thanks to June and Lesley Trew for all their work in making my solo exhibition so successful – during a packed private view evening, eleven pictures were sold and several commissions taken! Thanks also to everyone who attended, particularly those who purchased my paintings and made the show such a knock out! A wonderful result all round.
News
Pip is proud to announce that two of his original paintings have been presented as gifts to His Majesty Sultan Quaboos Bin Said, the Sultan of Oman. The paintings of Arabian Leopards were commissioned specifically for his Majesty and presented during the Oman National Day in November 2015.
MARWELL ZOO ART GALLERY
MARWELL ZOOLOGICAL PARK
Thompson's Lane, Colden Common, Winchester, Hants SO21 1JH
A permanent exhibition of Pip's paintings will be exclusively on display for sale at this new art gallery housed in Marwell's retail outlet! After an exciting launch evening that saw his painting 'Reclining Snow Leopard' sell for £48,000.00, the exhibition is now available for Marwell's visitors to view. The paintings within the display will be changed regularly and a proportion of sales will go towards Marwell's work with endangered species. NOT TO BE MISSED! *Normal park admission fees apply*. Contact Pip at pip@pipmcgarry.com for further information!
Latest News
Pip's largest oil painting to date, 'Leap Of Faith' (51 by 67ins) sold for £80,000.00 in Dec 2014 to a private collector.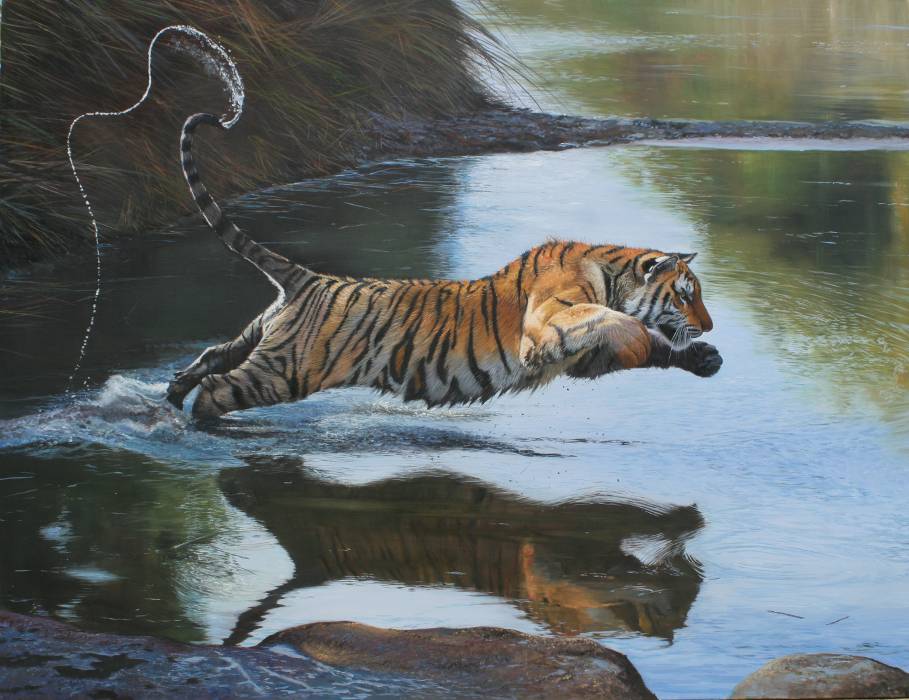 Big Cat Safari - Report
Maasai Mara, Kenya
Click here
to read about the latest safari to Kenya's famed Maasai Mara reserve, led by the acclaimed photographers Daryl and Sharna Balfour.
Botswana Safari October 2012 - Report
On the 10th of October Pip and his team of MIWAS artists headed off from the UK on the long journey to the raw wilderness of Northern Botswana. Along with the group was Heather Irvine, winner of the BBC Wildlife Artist of the Year, who won the safari with Pip as first prize in the competition.
Read the full report here.
Successful Christie's Auction
Pip's excellent 'Flight of the Zebras' was recently sold at the Christies Art Auction achieving a final price of £29,300.
'...one of Europes leading wildlife artists...'


Chris Bull, Managing Director, Simon Bull International Ltd
'Pip McGarry has a unique approach to painting wild animals which is the key to his present position in the art world. He catches the spirit of the beast every time and there is more depth in his paintings than the simple two-dimensional plane. His fine painting of a Persian Leopard in our May sale was an example of this talent. There is now a frisson of interest throughout the room when his paintings come up for auction'


Lynn Burns, Head of Wildlife Art, Christies
'Pip McGarry has firmly established himself as one of the foremost wildlife artists in the UK. His sensational work has truly captured the imagination of the British public.'


Helen Swaby, Managing Director, De Montfort Fine Art Ltd